In een kort gesprek met een van de Zweedse opleiders afgelopen week viel de term SITE-conference. Vandaag maar eens gekeken en ik moet zeggen: voor opleiders (maar ook leerkrachten basisonderwijs) interessant materiaal moet ik zeggen. SITE staat zoals in kop al staat voor: Society for Information Technology and Teacher Education.
Volgend jaar april is de volgende conferentie. Of ik daar naar toe zou kunnen gaan durf ik niet te zeggen. Maar online zijn ze ook op verschillende manieren te volgen. ZO houden ze een blog bij. En naast een journal hebben ze ook een online journal. Interessant om te lezen moet ik zeggen.
Ik vond er ook een model waarin, zoals ze het zelf zeggen:
three main components of teachers' knowledge: content, pedagogy, and technology. Equally important to the model are the interactions between and among these bodies of knowledge, represented as PCK, TCK (technological content knowledge), TPK (technological pedagogicalknowledge), and TPACK.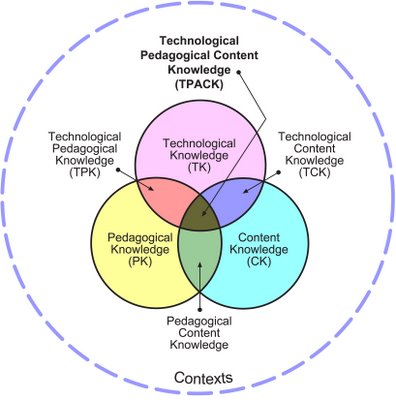 Oftewel: een leerkracht moet beschikken over Technologische kennis, pedagogische kennis en vakinhoudelijke kennis en dit kunnen combineren.
Ik denk dat ik blad nog vaker ga lezen.